MiniMeters
A downloadable tool for Windows and macOS
MiniMeters
MiniMeters is a small persistent & standalone metering app for macOS/Windows. It accepts audio input from any input device on macOS/Windows, the default output device on Windows, as well as an included VST3/AU plugin to insert into your DAW which transmits audio to the standalone application.

[IN DEVELOPMENT] - DOWNLOAD DEMO BEFORE PURCHASING.
✅ Features ✅
6 modules to choose from to build your perfect metering setup: Spectrogram, Waveform, Peak/LUFS, Stereometer, Oscilloscope, & Spectrum Analyzer.
Resize and swap module positions to create a custom horizontal layout.
Pop out any module to create a custom multi-window layout.

Capture your default audio device on Windows with WASAPI.
Included VST3/AU plugin to send your DAWs audio into MiniMeters.
Dive deep and create your own color scheme to set the mood.
No copy protection, just download and install.
⬛️ Modules ⬛️
Spectrogram:

Analyze the frequency content of your audio over time.

Waveform:

View the waveform history of your audio over time. Switch to "Color" mode to get a sense of frequency content.

Peak/LUFS:

Find if your song hits your preferred loudness.

Stereometer:

See your audio's stereo width and balance with 3 modes: "Scaled" zooms in on the lower volume audio to show detail you might be missing. "Linear" shows a unipolar view of your audio. "Lissajous" shows an unadulterated lissajous function. Switch the color to "RGB" or "Multiband" to see stereo width and frequency content at the same time.

Oscilloscope:

See a more detailed view of your audio at any moment. Turn on "Follow Pitch" to get a good sense of what your sub bass waveform looks like.

Spectrum Analyzer:

View the frequency content of your audio in "Left/Right" or "Mid/Side" mode. Switch it to "Color Bars" for a vertical slice of the Spectrogram. Frequency Readout shows the loudest frequency in your audio. Great for finding that note or tricking your friends into thinking you have perfect pitch. Adjust the "Slope" to 4.5dB to emulate FabFilter Pro Q 3 or Voxengo Span's default slope and aim for your mix to be flat on the meter like me.
💻 System Requirements 💻
Windows:

Windows 10. Latest recommended, may work on older versions.
Processor made in the last 15 years.
Screen Resolution 1280x720 or greater is recommended.

OpenGL 3.3 or later.
VST3 compatible host or a method of routing audio into an audio input.
macOS:

macOS 10.13 or later.
Screen Resolution 1280x720 or greater is recommended.
OpenGL 3.3 or later.
VST3 or AUv2 compatible host or a method of routing audio into an audio input.

⚠️ Known Limitations ⚠️
MiniMetersServer (VST3) is current not working in Reaper on Windows.
PLEASE DOWNLOAD THE DEMO BEFORE PURCHASING.

THIS IS A BETA. ISSUES MAY OCCUR. PLEASE CONTACT ME FOR SUPPORT.
Support: https://discord.gg/9gaqdX4X7a
Download the demo to ensure that it works on your system with your audio setup.
Demo Limitations:
The only available modules are the Waveform and the LUFS/Peak modules.
Demo text sits in the middle of the screen.
No time limit. If the demo is all you need feel free to use forever :)
Purchase
In order to download this tool you must purchase it at or above the minimum price of $10 USD. You will get access to the following files:
MiniMeters-v0.7.0.dmg
7 MB
MiniMeters-Setup-0.7.0.exe
16 MB
Download demo
Comments
Log in with itch.io to leave a comment.
Hi!
This looks really cool! Out of interest do you plan to attach the display with the plugin?
I purchased MiniMeters and loved using it, but now whenever I attempt to open it, it does not appear on my screen. I have uninstalled and reinstalled multiple times. I am thinking it may have to do with my switching to monitors of differing resolutions (I often connect to a 720p TV to play games). I have only been running the program standalone, not as a VST. Hoping for some help.
Hey,
How do you close the program without having to forcing an end task via the task manager?
Also want to say that i LOVE this visualizer thank you!!!!
Just copped this, and no need for analyzers on my master anymore. Amazing.

Greedy of me, but one thing I would love to see on the spectrum analyzer is a grid along the y axis as well for peaks like Voxengo SPAN.

<3
Hello.
The screen saver does not start when MiniMeters is running.
Display sleep is also disabled.
Is this fixable?
i use mac
I confirmed this is the case and will be corrected in the next update. Thank you for pointing this out!
i love this!! been looking for something like it for years, glad to have finally found it :) came here from your wav2png converter and i'm in awe, keep up the great work!
this is great! what's the best way to submit bugs/issues?
the main issue i am coming across comes from resizing. as minimeters gets taller, the stereometer gets larger and larger and shrinks the other modules, including the spectral analyzer which can't be resized. when this happens i have to reset settings and reinstate all my changes. the image is what things look like before resizing. the resized comparison will be in the next comment.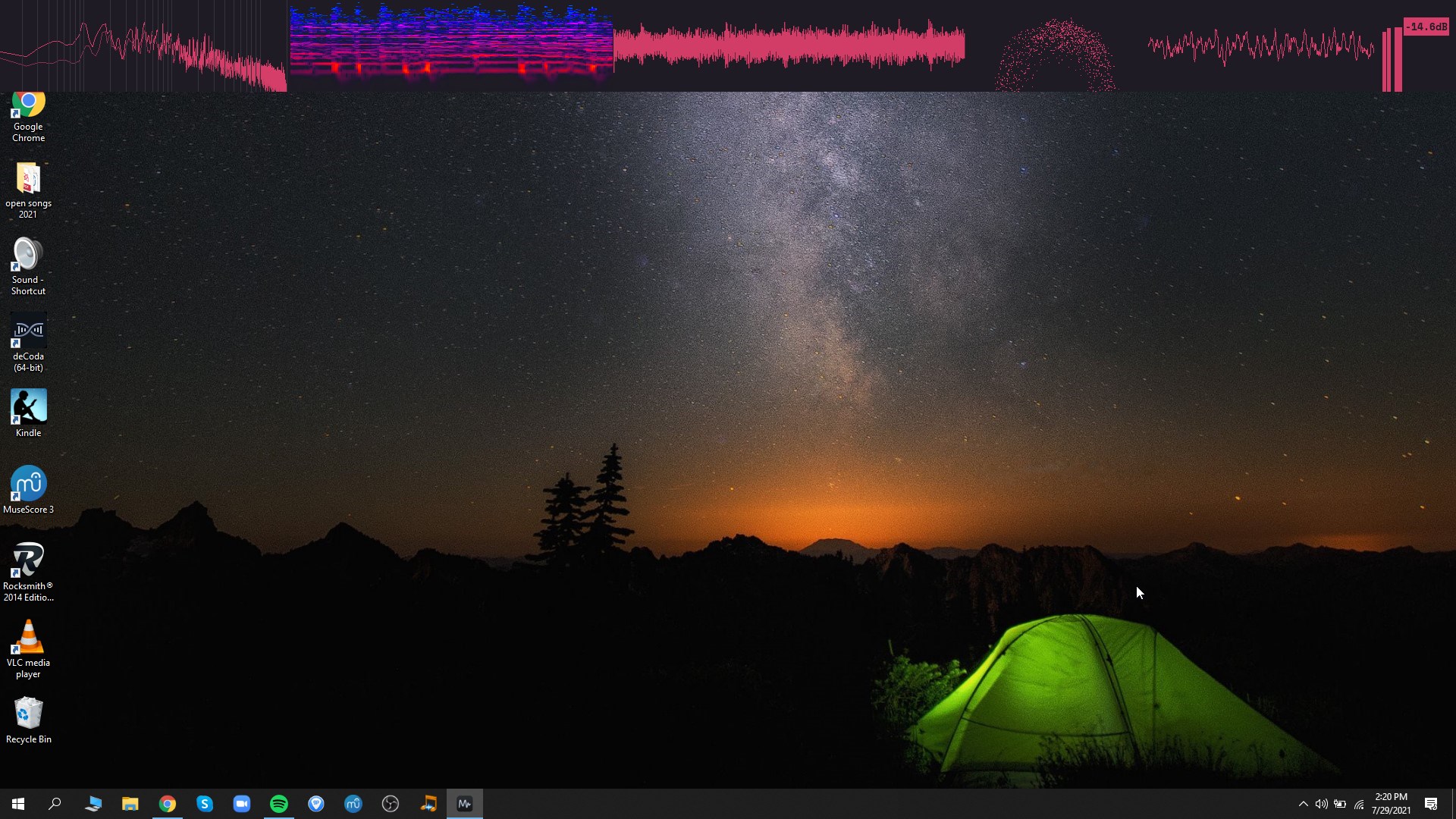 i wouldn't really try to make minimeters this tall, but i did this to illustrate the issue with the stereometer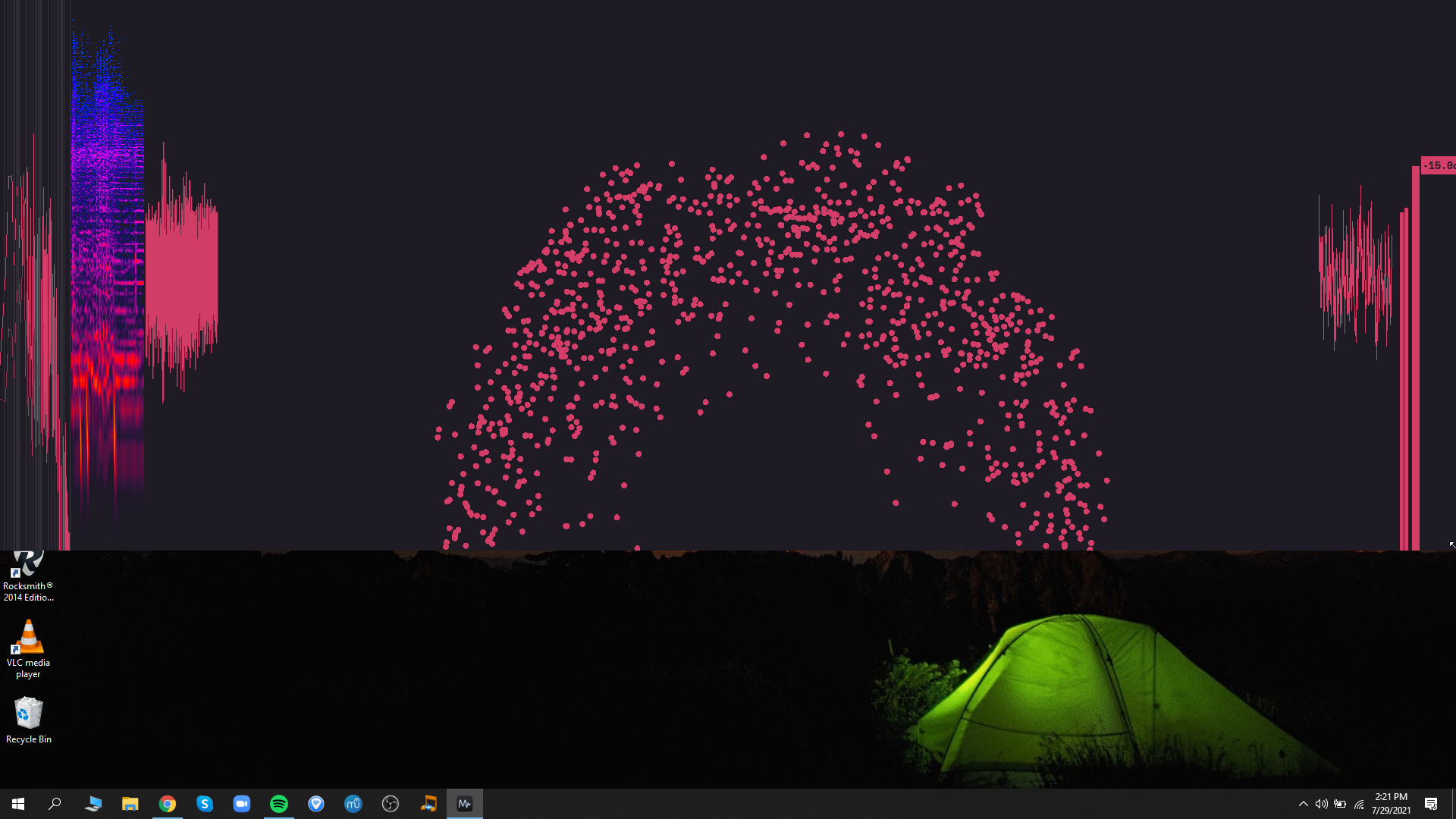 This was intentional as i did not want it to appear stretched or compressed, and I did not want it to get cut off at the edges. I am looking into solutions for this as to lead to a better experience.
that's fair. i have only really had this happen when trying to move it and forgetting it is alt+drag. i don't run into issues with it now.
Honestly the perfect set of meters! Perfectly readable besides their small size
Plus the small visual footprint means I can have it below my daw without it ever becoming a distraction or taking any real screen estate
Beautiful and wonderful x
-Matt (Gammer)